Our Proven Process Produces Results
1. DISCOVERY
Recognising true project definition, plan timelines & estimate costs. Establishing effective communication channel.
2. PLANNING
A sound strategy for laying foundation of project. Translate business requirements into technology needs. Define business goals.
3. EXECUTE
Create intuitive user interface. Develop engaging user experience. Development of idea into real time application.
4. TESTING
Multilayer testing methodology is performed to ensure quality & transparency. It proves very helpful in improving overall efficiency.
5. DELIVERY
Successful Deployment after Successful Development. Also, ensuring that business process are carried out swiftly.
Some Words From Our Clients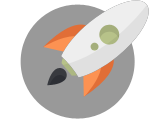 We're Here To Help Your Business Blast Off!
Through Creative Ideas, Innovation & Sheer Determination